Earth Angel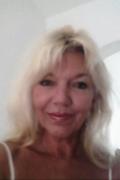 Logged Off
PIN 4162
About Earth Angel
Earth Angel is an outstanding reader. Her test reading blew us away. She is a natural Clairvoyant, Clairsentient and Clairaudient. She will aim to help and uplift you - giving light and clarity to your journey here on earth.
Pay by phone
0906 739 3033
Calls cost £1/min + phone provider's access charge.
Pay by card
0330 201 9605
20 mins for £20, 30 mins for £28, 60 mins for £54. Extra mins £1.50/min.
88998
SMS cost £1 per msg + standard network rate. Max 3 msgs per reply (max £3).
What do you most like about giving readings to clients?
My aim is to help and uplift my clients, to shed light and to give them clarity.
How would you say that you are typical of your star sign?
I would say that I do have Virgo traits, but my rising sign is Piscean, and descendant is Scorpio. What do you do in your spare time? I like to swim and dance
What's your Favourite book or film and why?
I love Planet of the Apes, as it was filmed here in Lanzarote where I have spent a lot of time.
Describe yourself in a sentence?
I am a very loving and compassionate person, kind and understanding.
What other experiences or qualifications do you have that you feel compliment your work as a reader?
I have been interested in metaphysics since 1997. I am a member of the SNU, and studied at the College of Parapsychology in Edinburgh. I attended open circles and healing groups. I am a Master Reiki Healer and Hatha Yoga Teacher. I studied Colour Therapy and the Angelic Realms.
What is the most important thing for a person to consider when they decide to have a psychic reading?
Initially they should come with an open mind, and that what I am channelling is for their highest good.
Skills
Clairvoyant
Clairsentient
Clairaudient
Psychic
Reiki Healer
Tools
Tarot Cards
Pendulum
Angel Cards
Subjects
Love/relationships
Career/work
9th November 2017
Test Testimonial
This is a test testimonial
Want to share your review of this reader?
Leave a review