Grace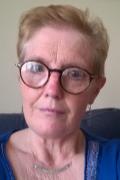 Logged Off
PIN 4259
About Grace
Grace is one of those Clairvoyant readers that you will want to speak to time and time again. Grace is a natural Clairvoyant who gives her clients peace of mind and real confidence in what their future holds. Grace will give you direct answers and will not generalize your situation. To have a future that you can believe in please give Grace a call.
Pay by phone
0906 739 3033
Calls cost £1/min + phone provider's access charge.
Pay by card
0330 201 9605
20 mins for £20, 30 mins for £28, 60 mins for £54. Extra mins £1.50/min.
88998
SMS cost £1 per msg + standard network rate. Max 3 msgs per reply (max £3).
What do you most like about giving readings to clients?
I like it when you can hear their energy change, especially if they need guidance and help finding their way. Occasionally it has felt like a healing experience, and they have commented on on how this has helped them. It's the satisfaction of being able to help someone.
How would you say you are typical of your star sign?
I am very creative, sensitive and find the flow of water. I am also very good at healing, energising and calming. These are all typical characteristics of Pisces.
What do you do in your spare time?
I write poetry being inspired by the wonderful view I have over 50 miles of the Worcestershire countryside, and as an artist take close up photographs of flowers, and paint them. Nature and all things connected with it are my passion, now I am more mobile I have returned to gardening.
What's your Favourite book or film and why?
My favourite film is "Goodwill Hunting". It's about someone who hasn't had the best start in life, is not very confident yet comes across as being very aggressive. He has an extraordinary talent; being able to decipher mathematical formulas that no-one has been able to do. Eventually his talent is discovered, but during this time, he has found something more important, something that has always frightened him - love.Possibly one of my favourites, as its about an internal fight, between head and heart, someone who has the courage to face up to their own inner insecurities and move on, a person who faces their fears and bravely finds a love he never expected to experience.
Describe yourself in a sentence?
Intuitive, compassionate, kind, empathetic, honest, fair and well organised, but a worrier.
What other experiences or qualifications do you have that you feel compliment your work as a reader?
I am a Homoeopath with counselling skills, with a broad knowledge of complimentary therapies; I am a healer with Reiki 2, which enables me to discuss alternative routes with those that require it. I feel this knowledge makes me sensitive towards people's emotions. I am a mother of 2 adult children and that has led to me to use a wealth of common sense! I am an excellent communicator, I have a degree in art and design with an extremely creative imagination, that often helps when clients are 'stuck' and have lost their way, as I believe we all have a creative talent that sometimes needs tapping into when we are low, thereby creating a positive energy.As financial stability has always been something of an enigma, I have always made use of 'cast offs' and furniture people have discarded. I can make something out of nothing, and can appreciate people in the same situation, but I never give up hope, and I think that is an important commodity. Without it, we can't survive.
What is the most important thing for a person to consider when they decide to have a psychic reading?
It is important that when a client decides to have a reading that they don't go into the reading expecting everything that is said to be 100% accuracy. It sometimes takes readers a little time to connect. I think it is also important to be open minded regarding the reading and to trust that the reader is there to help and guide you.
Skills
Clairvoyant
Clairsentient
Psychic
Tools
Crystals
Pendulum
Oracle Cards
Subjects
Love/relationships
Career/work
Destiny/life path
This reader has no testimonials.
Want to share your review of this reader?
Leave a review